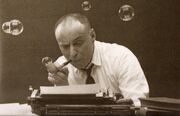 Harvey Kurtzman was the co-creator of MAD magazine, and editor-in-chief of EC's war comics, Two-Fisted Tales, and Frontline Combat. Born on 3 October 1924, he attended the High School Of Music And Arts which would later also be home to EC alumni Bill Elder and Al Feldstein.
He later left EC and MAD, to found TRUMP magazine for Hugh Hefner, which only lasted two issues. Later additional efforts to found humor/satire magazines followed, including HUMBUG and Help! magazine.
In the mid-1980s Kurtzman rejoined MAD with Bill Elder for several articles.
Harvey Kurtzman passed away 21 February, 1993.
This page contains original content that is unique to EC Comics Wiki. It is licensed under CC BY-SA 3.0.
Ad blocker interference detected!
Wikia is a free-to-use site that makes money from advertising. We have a modified experience for viewers using ad blockers

Wikia is not accessible if you've made further modifications. Remove the custom ad blocker rule(s) and the page will load as expected.