Tales from the Crypt is a horror comicbook originally published by EC Comics in the 1950's, producing 30 issues from 1950 to 1955. The original run of the series was canceled in 1955 after feeling the pressures of the Senate Subcommittee of Juvenile Delinquency, but has since been reprinted and revived for new comicbooks, several times. Tales From The Crypt has also had several movies and a television series based on it.
Reprints
Edit
Tales from the Crypt has been reprinted by various publishers such as Gladstone, East Coast Comix, Gemstone, Fantagraphics Books, and Dark Horse Comics.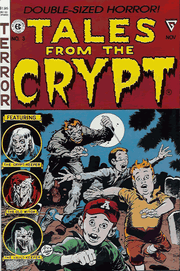 Television and Film Adaptations   Edit
In the 1970s, Amicus Films produced a Tales From The Crypt movie based on stories from the various EC horror titles.
A live-action television series based on stories from the EC horror comics originally ran on HBO from the mid-1980s until 1996. The HBO TV series has since had several film spin-offs, including Bordello of Blood, Demon Knight, Ritual, and the filmed but unreleased "Fat Tuesday".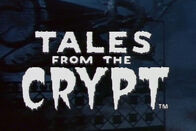 In 2016, it was announced that M. Night Shyamalan would be producing a seperate series based on new stories, and stories from the original comics for TNT. The series was originally rumored to be a series-long story arc, similar to American Horror Story, and rumored to be based around a script that dealt with voodoo in New Orleans.
Ad blocker interference detected!
Wikia is a free-to-use site that makes money from advertising. We have a modified experience for viewers using ad blockers

Wikia is not accessible if you've made further modifications. Remove the custom ad blocker rule(s) and the page will load as expected.