Welcome to the EC Comics Wiki

This wiki is about comics published by the comic book company EC Comics and EC-related media.
EC Comics NewsEdit
EC Comics News [ edit ]
Aliens, Monsters, and Madmen: The Art of EC Comics ran from May 13, 2016 at the Jordan Schnitzer Museum of Art. Various EC Panels/Talks were held over the run of the exhibit; A list of events is HERE
The previously planned Tales from the Crypt reboot series that was to air on American network TNT has been cancelled due to "rights issues."
Random EC Selections
Edit
Weird Fantasy 8, Revisited
Al Feldstein-painted recreation of Weird Fantasy 8
Sites that may be of interest to EC fans
Friends of EC Comics Wiki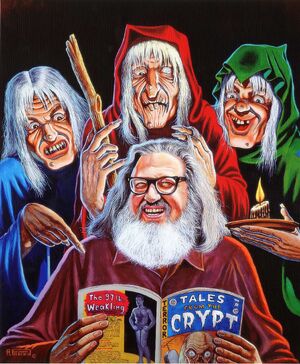 Upcoming Releases
Edit
Upcoming and Recent EC Releases [ edit ]
Tales from the Crypt Vol 3 2 was released March 2016 by Super Genius and featured art by Bernie Wrightson.
The EC Archives: The Haunt of Fear Volume 4 was released on April 25, 2017 by Dark Horse Books.
The EC Archives: Crime SuspenStories Volume 2 was released on Jun 27, 2017 by Dark Horse Books.
The EC Archives: Aces High was released October 31, 2017 from Dark Horse Books.
The EC Archives: Panic Volume 2 was released December 26, 2017 from Dark Horse Books.
The EC Archives: The Vault of Horror Volume 1 was released Feb 27, 2018 by Dark Horse Books.
About EC Comics Wiki This wiki was started as a fork of another wiki that the old EC wiki had been merged into, and is now its own stand-alone wiki with new articles, comic covers, art, and more.
Just what is/are "EC Comics?
EC Comics was a comic book publishing company in the forties and fifties that published titles such as Tales from the Crypt and Weird Science. In the early 90s, a reboot of Two-Fisted Tales was carried out by Harvey Kurtzman, bearing the EC logo; However, the new series lasted only 2 issues. Later on in the 2000s a attempt to relaunch it and print a new series of CRYPTs was carried out by comic publishing company Papercutz, but the title lasted for only 13 issues. Currently Tales from the Crypt Vol 3 is being published by Super Genius.
Recent Page EditsEdit